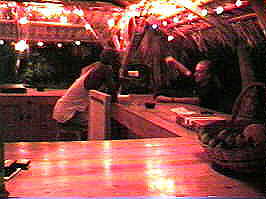 Ricky: Rob, how come yuh noh party everynight ah Red Dragon?

Rob: What, you mean Ragga Bone's place up in Red Ground? I've been there a couple times, mon!

Ricky: Ragga Bone is ah cool man yuh noh stop laugh inna fi him place when yuh friend Hamish come yah yuh can teck him up dah one night.

Rob: You know Ricky, that does sound good. We didn't do that the last time he was here.

Ricky: Yuh ha fi rootsman fi really hang out ah Red Dragon di moment yuh di dah is rum - gin - vodka - ah pure hard liquor dem drink dah.

gClick for the previous Back Ah Yawd, or click for the next one.