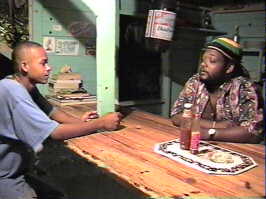 Mark: Soh Rasta, DeBuss ah start di Negril Carnival next week.

Peachan: Yes Iah mi no si dem put out posters wid Laro Laro, Lovindeer and more calypso king fi di 16 ah April

Mark: Ah who sponsor Negril Carnival?

Peachan: Di Negrl Craft Vendors Association one whole week ah calypso.

Mark: So di fus day dem crown di queen an den yuh jump and rumba under di soca.

Peachan: Ah down ah di community center dem end up wid live show and plays.

Click for the previous Back Ah Yawd, or click for the next one.