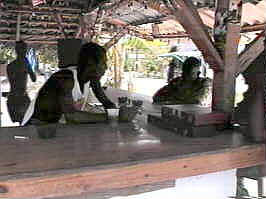 Ricky: Nice fi see Daune back in town.

Kenny: Mi ah tell yuh, him can party real hard mon!

Ricky: Last night man him jus ah smoke di ganja and drink hard.

Clive: Bwoy, him good fi get up soh early dis morning bout him ah go fishing wid Kiss Mi Liver.

Ricky: Ah Kiss Mi Liver, him di old man who ha di canoe pan di beach him do net fishing.!

Clive: Yah mon! Him use to ride inna di lane ah crayfish and god-ah-mi.

Click for the previous Back Ah Yawd, or click for the next one.