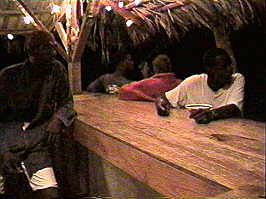 Arvil: Daune, yuh ah leave now, teck care.

Duane: (walking off) Thanks man! This was the most fun I've ever had on Easter weekend! See ya later!

Delroy: Bwoy ah one ah di best Easter Monday mi se inna Negril fi ah long time.

Champs: Pan di beach yuh could see di people dem how dem look happy inna dem face.

Arvil: True mon ah di fus from mi ah bwoy mi see Easter look like Carnival!

Champs: One of the nicest thing is everything gwan so peaceful and quiet.

Click for the previous Back Ah Yawd, or click for the next one.