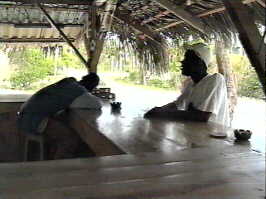 Erol: Bwoy it look like di Easter vibes hot hot. Every wah mi go people ah keep party.

Lloyd: Mi did dah pan di street last night teck in bout 6 different parties yuh noh si say mi eyes dem can hardly open dis morning.

Erol: Ah way ah Whitehouse mi an mi sister dem believe mi ah di best fry fish an bammy mi eat fi ah long time dem women out dah really know how fi rub di cassava!

Lloyd: Ah bun and cheese day yesterday Easter tradition mi nyam ah few slices.

Erol: Monday ah big holiday. Beach day as usual. Di beach ago pack wid people again.

Click for the previous Back Ah Yawd, or click for the next one.