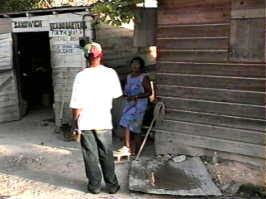 Erol: Wha happen Aunt Raff, look like yuh ah clean up di mess fram last night?

Aunt Raff: Yes sah ah dem bwoy and gal last night di out yah wid mi.

Erol: Di young people dem look like dem like fi dah wah yuh dah ah lot?

Aunt Raff: Yuh si mi treat dem good. Mi love young people especially when dem can behave dem self yuh si fram mi come ah Negril come live ah just soh everybody like mi.

Erol: Ah soh wi all fi treat dem set di example.

Aunt Raff: Bwoy ah one ting not even judge and clerk of court asked question like dem. Dem want know everyting fram Noah ah bwoy till him build di ark.
Click for the previous Back Ah Yawd, or click for the next one.