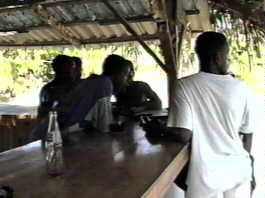 Shane: Dat dah man dah noh joke fram morning him ah run down di goat.

Bolo: Bwoy, mi rate him mi would ah get fed up ah ready an leff him alone.

Maron: Every man Bolo stop watch di man wid him goat and teck backgammon inna yuh skin.

Shane: Dis ah doe di third time mi gammon him since we play.

Lloyd: Ah soh mi used to get nuff nuff gammon fram uno until mi start gammon uno back soh Bolo doe come back pan uno one day.

Flint: Ah mi and him ah par him ah learned mi ah him coach.
Click for the previous Back Ah Yawd, or click for the next one.