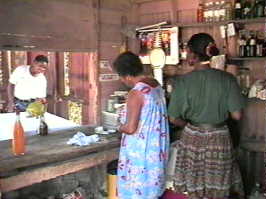 Gloria: Aunt Raff, yuh noh si say Easter dah yah already! Yuh nah buy bun and cheese?

Aunt Raff: Yuh can gwane talk bout Easter yuh ha money fi spend mi ah poor gal ah bata bata fi life.

Sandra: Aunt Raff - noh si soh people wid money never say dem ha none.

Aunt Raff: Yuh can chat up yuh mouth and say anything yuh ha life under foot!

Gloria: Mi nah gwane like no old lady anyway di Easter party dah mi di dah fram church to dance hall.

Aunt Raff: Yes dear. May di good God go wid yuh.
Click for the previous Back Ah Yawd, or click for the next one.