The World of Jamaican Wood Carvings
We pride ourselves in the range of handmade Jamaican items that can be purchased in our shop. We offer useful items such as wooden bowls and cups, small decorative items like animals and wall hanging. in addition we offer the larger creative pieces that you will find no where else on the island of Jamaica!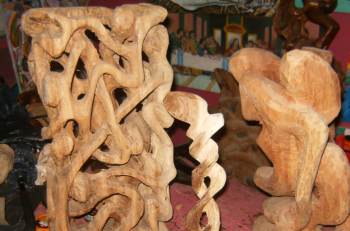 When you visit Dr. Quality and Fay's Shop, you will see our wood carvings and jewelry in many stages of the creative process. We allow the patterns, grains and shapes in the wood be the inspiration for many of our larger works of art. No two are alike. Please feel free to stop in and ask about how we create these wonderful pieces - we love to explain the process to all our friends who visit our beautiful island!