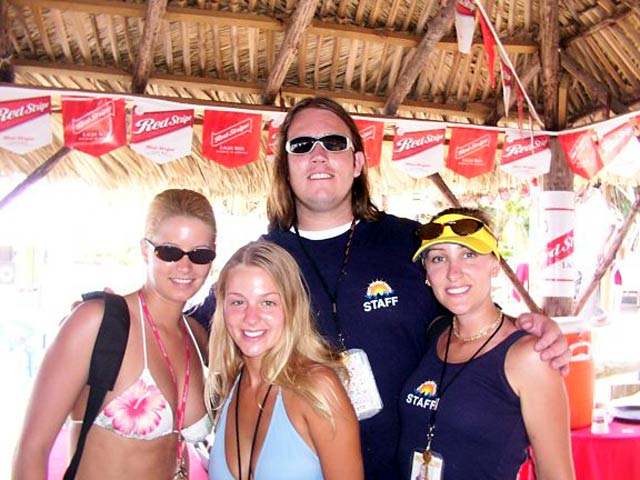 Sun Splash Reps at Fun Holiday
March 12th, 2003
Wednesday played host to the noon Board Meeting Daze gathering and the breakfast recovery of Spring Breakers 2003! It was the Sun Splash Tours Corona Beach Party with all the Coronas you could drink at Fun Holiday after a full breakfast! Shown here are some of the Sun Splash Tours representatives who help make this possible! It was a hilarious day over all with some of the funniest beer drinking contests ever witnessed by man! DJ's Gummy Dee from Fun Holiday and Simon from Mr. Reflex from NYC kept the breakers entertained with their not necessarily politically correct jokes, but there were many correctly funny moments. One of my favorites was at the beginning of the Men's Free Corona T-Shirt contest. The first guy who brought up 5 Coronas to Gummy Dee got a free Corona shirt. Easy! Well, the first guy up to the DJ booth brought with him 5 empty bottles and was told they needed to be full bottles. Even though the Coronas were free, giving Gummy an odd stare he left the stage mumbling that he would rather have the 5 Coronas... (grin) Gotta love Spring Break!
Daily Music News: The Negril Entertainment Network's next scheduled event is on Thursday night at the Fun Holiday and Sun Splash Tours Wet and Wild Pool Party with DJ's Gummy Dee and Reflex (from NYC)! This will start at 10pm so be there! For the latest music news, keep checking here, the Spring Break 2003 Negril Events Schedule or the Negril Spring Break Message Board for more information about the live webcasts and chats! As the time for each live NEN event approaches, check for details on the Negril Spring Break Message Board. These posts will guide you through the procedure to join in the live web cast and chat in the Negril Chat Room.
At 12:06am - time to call it a night... The temperature is 80° F, 27° C.
Click here for Translation
Beingee's Internet Negril Privacy Policy
Beingee's Internet Negril.Com is Powered By Globalnet


We use them and they can provide for all your Hosting Needs!

Other area to visit in Jamaica:


© Copyright 2003. Beingee's. All Rights Reserved.