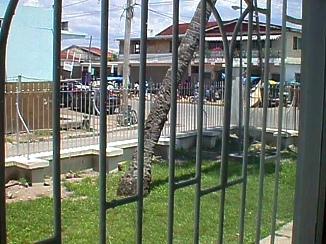 More To See
October 29th, 1998
The other day on the Negril Message Board, I made mention that Negril was really more than just a beach, and that you could see many interesting things all around Negril. Today we want you to take a visit with us to the main city in the parish of Westmoreland, Savanna-La-Mar, or Sav as the locals call it. While Negril is obviously a resort town, Sav has the feel of a real Jamaican town - be sure to take a trip to Sav and get a taste of the real Jamaican ways. Daily Music News: the Thirsty Thursday Pub Crawl starting at Jamaican Price was a fun on Thursday night. Sorry you couldn't join us on the NEN - ISP problems - the NEN couldn't get connected until nearly 11pm! Sorry mon! But no worries for Friday night - details on how to watch and chat from the Negril Yacht Club will be posted on the Negril Message Board (found off the Main Menu - link is above and below) on Friday night! Yah mon! Come on and be NEN'd (watch, listen and chat) on Friday night on the Negril Entertainment Network!
At 11:10am - an overcast morning. The temperature is 84° F, 29° C.
Click here for Translation







This page is sponsored by Catcha Falling Star on the majestic cliffs of beautiful Negril Jamaica. If you like this website, be sure to book your next visit with Catcha Falling Star - just click on the link to take a tour of the property! And be sure to let them know you saw them on Beingee's! If you want to be a sponsor, bemail us. Thanks!
Other area to visit in Jamaica:

© Copyright 1998. Beingee's. All Rights Reserved.