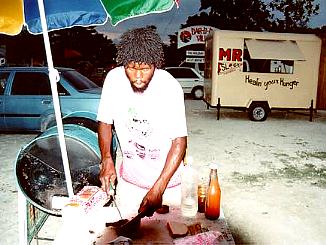 Jerk Stand
January 29th, 1999
In addition to music, food is one of the big draws for visitors to our magical island of Jamaica. And one of the "must do" items is to sample the jerk chicken that Jamaica is so famous for. Although authentic spicy hot jerk chicken is sometimes hard to find, a usually somewhat tempered version can be found at any of the jerk chicken stands that dot the roadside. Barbecued chicken - fresh off the grill is coated with each particular vendor's own secret recipe. Today's picture was sent in by OhioDavid. Thanks again mon! Daily Music News: Friday night's broadcast from the Negril Yacht Club was a tough one mon! After the great Thursday night show at DeBuss, our connection on Friday left much to be desired. Look for the Negril Entertainment Network to be broadcasting live Saturday night from the Yacht Club. There will be more mobile camera shots - and maybe even some guest interviews! Yah mon! Also, the morning/afternoon broadcasts of WEST104 will start back up on Monday morning - so look for the details for any and all NEN broadcast will be posted on the Negril Message Board just before showtime!
At 5:45pm - a beautiful sunset. The temperature is 80° F, 26° C.
Click here for Translation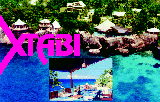 This page is sponsored by Xtabi Resort on the cliffs in Negril. If you like this website, be sure your next visit includes a stop at the famous Xtabi Resort and Restaurant! Let them know you saw them here! If you want to be a sponsor, bemail us. Thanks!
Other area to visit in Jamaica:

© Copyright 1999. Beingee's. All Rights Reserved.