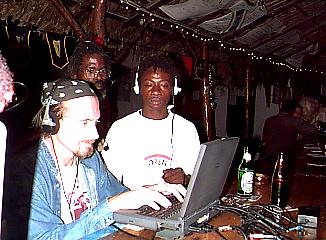 NEN at Work
January 28th, 1999
Music is one of the things that makes Jamaica what it is and the Negril Entertainment Network (Cyber Host Rob and Funny Face shown here - with Love George looking on from behind) has been bringing you the live sounds of Negril for over a year now. Thursday night the NEN took their broadcasts to a new level with help from one of our "boarders" - Sel-Vin. Sel-Vin brought down some badly needed equipment including a new mobile camera unit - that made the Thursday night party at DeBuss for John's Birthday Bash the most memorable show yet! If you haven't taken the time to join in one of the NEN broadcasts - now is the time! Daily Music News: The Negril Entertainment Network is busy mon! With morning/afternoon broadcasts of WEST104 starting around 11:00am and running til about 2:00pm JA time each day and the nightly schedule which can be found on the Shows & Events listing - expect much more from the NEN in 1999! Including a live broadcast from the Bob Marley Birthday Bash at MXIII - join the video, audio and chat during the Ziggy and the Marley Family concert coming up on the 2nd! Yah mon! In the meantime, join the NEN live from the Negril Yacht Club on Friday, Saturday and Sunday nights! Details for any and all NEN broadcast will be posted on the Negril Message Board just before showtime!
At 6:16pm - another cloudy sunset. The temperature is 80° F, 26° C.
Click here for Translation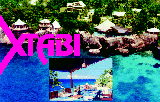 This page is sponsored by Xtabi Resort on the cliffs in Negril. If you like this website, be sure your next visit includes a stop at the famous Xtabi Resort and Restaurant! Let them know you saw them here! If you want to be a sponsor, bemail us. Thanks!
Other area to visit in Jamaica:

© Copyright 1999. Beingee's. All Rights Reserved.