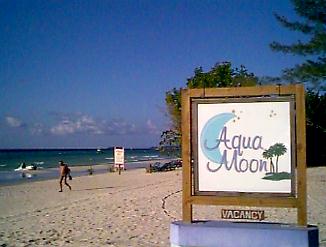 Beach Times
November 28th, 1998
The beach in Negril is the perfect place to spend a day playing in the sand, bask in the sun or to just take a long stroll along Negril's glorious stretch of soft white sand. With the wave actions that occur this time of year, some areas along the Negril beach are wider than they have been in years. Today's picture taken at the Aqua Moon Villa Friday afternoon shows one of the extended areas of beach that has graced our shores of the Caribbean. With the timeless shifting of sands that Mother Nature provides, the Negril beach is one of the world's real treasures. Daily Music News: it's Saturday so the NEN is bracing itself at the Negril Yacht Club for the big party on Saturday night with the Bat Posse. Look for the NEN to be starting around 8:00pm JA time. Once again, details on how to watch, listen and chat with the NEN will be posted on Saturday evening as the time approaches on the Negril Message Board!
At 9:50am - a beach day in Negril. The temperature is 80° F, 26° C.
Click here for Translation







This page is sponsored by Catcha Falling Star on the majestic cliffs of beautiful Negril Jamaica. If you like this website, be sure to book your next visit with Catcha Falling Star - just click on the link to take a tour of the property! And be sure to let them know you saw them on Beingee's! If you want to be a sponsor, bemail us. Thanks!
Other area to visit in Jamaica:

© Copyright 1998. Beingee's. All Rights Reserved.