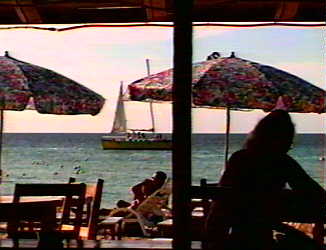 Alfred's Bar

28th, November 1996

An hour ago at Alfred's Ocean Palace, for Vicky in Keene, NH - USA. Today is the US's holiday known as Thanksgiving. Vicky kept refering to it as Turkey Day?! Her favorite place in Negril is Alfred's and her favorite holiday is Thanksgiving. Well, here's to you Vicky!

To keep the second page simple, click here or above on Page #2 for the Things To Do section. Watch for a much better page #2 in the future...

At 5:16 pm, all is good in paradise. The temperature is 86° F.,30° C.