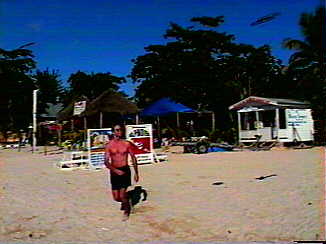 Frisbee

27th, November 1996

Here's a shot of Tom from Chicago in front of Dolphin Diver, eyeing the flying disk coming in at him from high above the beach. He's down from the US enjoying his Thanksgiving Week holiday in true style. Sand and sun instead of snow and cold.

For more things to do while you are in Jamaica, be sure to check out our Things To Do section. Click here or above on page #2.

At 12:22 pm, taking it easy today. The temperature is 90° F.,31° C.