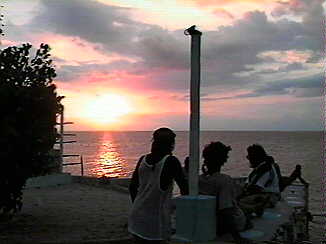 Deadheads in the Sunset

28th, October 1996

This morning we wanted to have a picture of the concert at DeBuss for this year's Dance Again Festival. Unfortunately, Culture ran into difficulties (literally) getting to Negril so last night's big show was cancelled. The house band, Indika entertained the crowd and the owner promised a free show later this week with Culture. And as in New York City, there was no civil unrest. Big up Yankees! Click on page #2 for the Dance Again Festival Itinerary.


At 7:07 am, a cloudless, blue morning. The temperature is 78° F., 25° C.