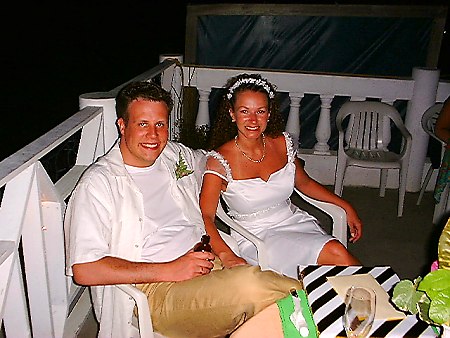 Kevin & Vicky!
April 28th, 2000
When a man and a woman make a commintment to each other, the place that they seal their bonds is an important choice. This happy couple, Kevin and Vicky, shown in a moment of relaxation "tied the knot" at the beach at Irie Vibes! Negril would like to wish them many years of health, wealth and happiness - congratulations Kevin and Vicky! Daily Music News: The Negril Entertainment Network started at 6pm on Friday from the above mentioned wedding of Kevin and Vicky at Irie Vibes! At 9pm, the NEN was live again from Alfred's Ocean Palace for the April Meeting of the Board! There was great turnout - expect a special edition Negril Today page on for April 29th! Saturday is an off night for the NEN but Sunday should provide another chance at some interesting online entertainment - the NEN will be live from Prento's Thatch Hut and Jeanne will be at the Red Sea in Minneapolis, MN, USA with the Ark Band! The Ark Band has a new CD - it is one not to miss mon! Check the Negril Message Board on Sunday evening for the most current information on how to join the NEN for the live webcast and chatting in the Negril Chatroom! For this webcast from the Red Sea, we will be utilizing the Real Player so have your's ready! To make it to the Negril Message Board click on the Main Menu above or below and then look for the Negril Message Board link!
At 7:14pm - a cloudy evening... The temperature is 80° F, 27° C.
Click here for Translation








Other area to visit in Jamaica:

© Copyright 2000. Beingee's. All Rights Reserved.