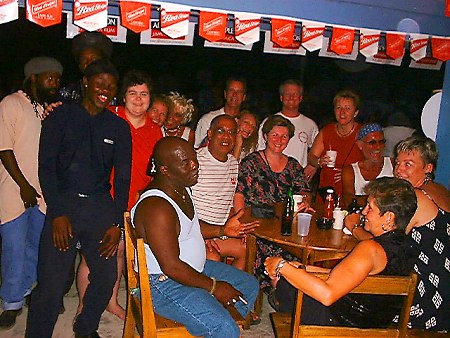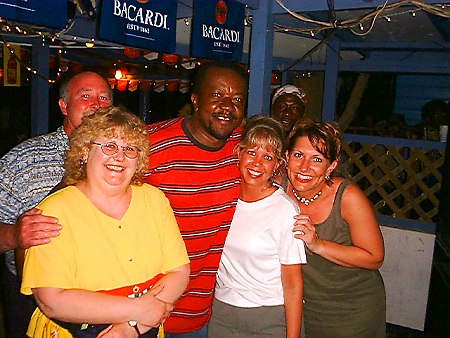 April Meeting of the Board!
April 29th, 2000
April 28th at Alfred's Ocean Palace was the first April "Meeting of the Board". It is a way for the people who read and/or post on the Negril Message Board a chance to gather and meet one another in the place brought them together in the first place - Negril! Today's special edition Negril Today page shows two pictures taken at the party - and we still didn't pictures of everyone! In the first picture, the party seems to center around retired Murray and in the second picture, Delroy from Mi Yard is shown with Mikeymon and the Queen, Lynn from MN and Cori (with Michael "Funny Face" hiding in the back)! Beingee's would like to thank all those that made their appearance known - it was great to meet you all! Daily Music News: The Negril Entertainment Network is back live on Sunday night with more online entertainment! The NEN will be live from Prento's Thatch Hut Bar and Jeanne will be at the Red Sea in Minneapolis, MN, USA with the Ark Band! We will be switching back and forth between The Ark Band and Prento's - so me ready for a fun evening! Check the Negril Message Board on Sunday evening for the most current information on how to join the NEN for the live webcast and chatting in the Negril Chatroom! For this webcast from the Red Sea, we will be using the Real Player so have your's ready! To make it to the Negril Message Board click on the Main Menu above or below and then look for the Negril Message Board link!
At 6:15pm - a clear evening... The temperature is 86° F, 30° C.
Click here for Translation








Other area to visit in Jamaica:

© Copyright 2000. Beingee's. All Rights Reserved.