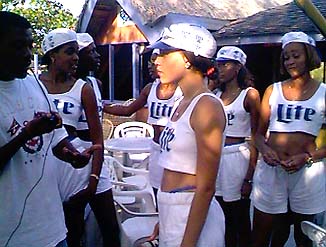 The Lite Girls!
February 28th, 1998
Your Spring Break Cyber Jock - Delroy the Back Ah Yawd man has been having a great time at Spring Break 1998 at the Spring Break Headquarters - Risky Business. The party has just started - we will be broadcasting on the Negril Entertainment Network all month long - from Risky, Mariner's Inn, Root Bamboo, Debuss and Moon Over Negril! The students are all in a good mood with all the free beer and rum giveways everyone are having, don't be fooled into paying more for a drink than you need to mon - conserving money at Spring Break is hard mon - trust me! Back Ah Yawd is going to be here all month long with Spring Break reminders and tips for the college students heading our way. Click on Back Ah Yawd for tip #1. Irie!
At 3:35pm, high above Risky on a beautiful day. The temperature is 87°, 30° C.
Click here for Translation






© Copyright 1998. Beingee's. All Rights Reserved.