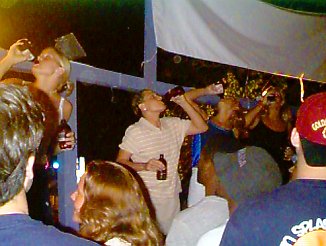 Spring Break Starting!
February 27th, 1998
Since the women are on the rail at Risky Business trying their best to consume a beer as fast as humanly possible - it must be SPRING BREAK '98! And of course - the official starting point is the legendary Spring Break Headquarters - Risky Business. We have just received and posted Risky's new 1998 Schedule - click here or on Risky Business to see what they have planned for this year! With all the free beer and rum giveways they are having, don't be tricked into paying more for a drink than you need to mon - conserving money at Spring Break is hard mon - trust me! Back Ah Yawd is going to be here all monthe long with Spring Break reminders and tips for the college students heading our way. Click on Back Ah Yawd for tip #1. Irie!
At 12:19pm, a breezy day. The temperature is 85°, 29° C.
Click here for Translation






© Copyright 1998. Beingee's. All Rights Reserved.