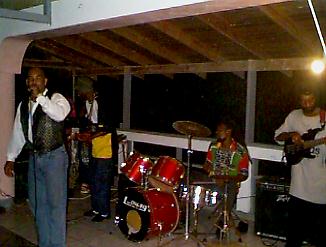 MC Ansel and Friends
October 27th, 1998
It was another wild Tuesday night on the cliffs of the West End at the Mariner's Inn Sunset Show. Because of the high surf, the show was moved from sea level up to the third floor ballroom at Mariner's Inn. But that didn't prevent everyone from having a fine Jamaican buffet dinner and enjoying the sounds of live reggae with the Sunset Band. MC Ansel (far left - also the dive master for Mariner's) made sure everyone had a great time with the music, limbo, contests and karaoke! Yah mon! Daily Music News: the NEN (Negril Entertainment Network) tried to get the broadcast started from the Tuesday night Mariner's Inn Sunset Show but were unable to get the phoneline all the way up to third floor ballroom - so sorry mon - no broadcast (but the picture proves they were there)! Look for the NEN to be back on Thursday night - details will be posted on Thursday on the Negril Message Board (found off the Main Menu - link is above and below) with directions on how to join the online fun (watch, listen and chat) on the NEN (Negril Entertainment Network)!
At 8:00am - an cool, overcast morning. The temperature is 76° F, 24° C.
Click here for Translation







This page is sponsored by Catcha Falling Star on the majestic cliffs of beautiful Negril Jamaica. If you like this website, be sure to book your next visit with Catcha Falling Star - just click on the link to take a tour of the property! And be sure to let them know you saw them on Beingee's! If you want to be a sponsor, bemail us. Thanks!
Other area to visit in Jamaica:

© Copyright 1998. Beingee's. All Rights Reserved.