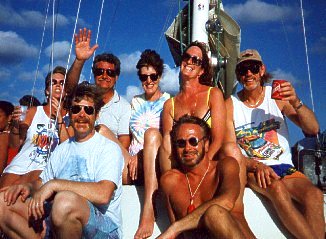 Friends!
January 27th, 1998
Today's picture was sent in by Negril Bill and Suntan Laura! They just got back home after spending another great vacation in Negril. The shot was taken aboard the Eclipse, one of the local catamarans. Bill told us it was taken last year during a sunset cruise - yah mon! Let's hope he gets some of this year's pictures developed and scanned soon. Please note, we always like getting pictures sent to us - if you would like to submit a picture, scan it and email it to us in JPG file format. If we can figure out how to use it, we will! Back Ah Yawd is back, Delroy continues with Nicey at last week's Thirsty Thursday Pub Crawl. Click on Back Ah Yawd for more!
At 9:24am, another fine day... The temperature is 79° F, 26° C.
Click here for Translation






© Copyright 1998. Beingee's. All Rights Reserved.