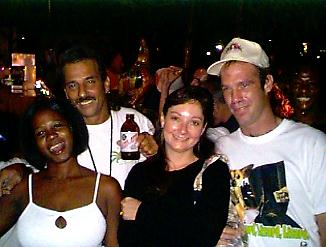 Hurricane Survivors
October 24th, 1998
That enigmatic figure, Rasta John is in Negril and brought some friends down to Negril for the first time, just in time for the little encounter with Mitch (a hurricane). In his usual, casual way, he managed to keep their spirits high with nothing more than a bottle of Red Stripe (shown here being held by Rasta John, who is shown here with his friends (front right). Actually, it was Donna (front, left) who brought the party home during Mitch's uneventful rendezvous. Thank you Donna!!! Daily Music News: as the foul weather subsides, everything is ready for the Sunday Night broadcast from the Negril Yacht Club starting, as usual, around 8:00pm. Keep checking the Negril Message Board (found off the Main Menu - link is above and below) for details on how to be part of the online fun (watch, listen and chat) on the NEN (Negril Entertainment Network)! See you then. Irie!
At 6:00pm - the waves are dying down... The temperature is 78° F, 25° C.
Click here for Translation







This page is sponsored by Catcha Falling Star on the majestic cliffs of beautiful Negril Jamaica. If you like this website, be sure to book your next visit with Catcha Falling Star - just click on the link to take a tour of the property! And be sure to let them know you saw them on Beingee's! If you want to be a sponsor, bemail us. Thanks!
Other area to visit in Jamaica:

© Copyright 1998. Beingee's. All Rights Reserved.