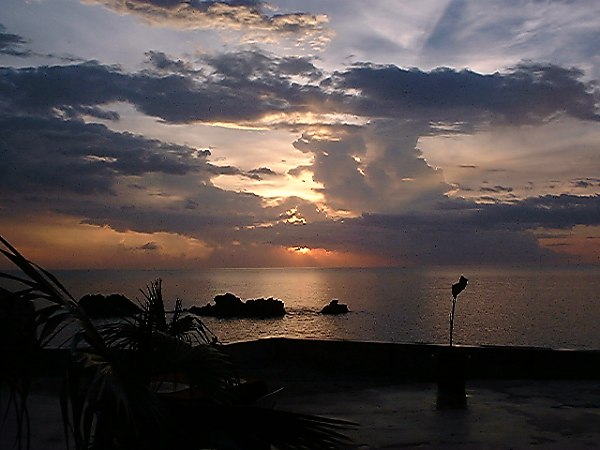 Sunday's Webcast Sunset!
September 23rd-24th, 2000
This week's Sunset of the Week was taken last night during the live Negril Entertainment Network's webcast of the famous Negril sunset! Happy Banana II played host for the event that featured Robert Cornelius of the The Robert Cornelius 7 from Chicago, USA! Mike Dorman of Vacation Hotline brought down a group of travel professionals and Sparkling Traci and Lovely Lisa made all the arrangements for the party! Those who joined the webcast and chat were treated to a one of a kind event, as the patterns and colors in the Negril early evening sky created an everchanging symphony for the eyes! We would like to that Sharon and Eddie at Happy Banana II, Mike Dorman, Sparkling Traci, Robert, Lovely Lisa and all of those who joined us live on the Internet! It was a great evening and a spectacular sunset!
Daily Music News: The Negril Entertainment Network will be back on Wednesday night from Roots Bamboo! Starting around 9pm JA time - join us live on the NEN and in the Negril Chat Room! Check the Negril Message Board around that time on Wednesday for the latest information about joining the live webcast and chat in the Negril Chat Room and being a part of the NEN! To make it to the Negril Message Board click on the Main Menu above or below and then look for the Negril Message Board link! Until then, have a fun one!
At 12:05pm - a cool sunny noon... The temperature is 82° F, 28° C.
Click here for Translation








Other area to visit in Jamaica:

To meet the banner advertisers requirements, we need to post this link to their privacy policy section. Give it a click if you have any qualms about it mon!
© Copyright 2000. Beingee's. All Rights Reserved.