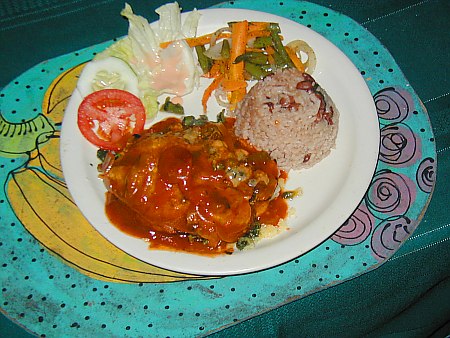 Trader Bob Agrees!
September 21st-22nd, 2000
This is probably one of the strangest requests we have ever received by a viewer of Beingee's Negril.Com. About a week ago, on the Negril Message Board, Stlouisjef mentioned his favorite meal in Negril. He seemed to be going through withdrawls and wanted to just see a picture of the House Specialty breast of chicken stuffed with callaloo and cheese from the Happy Banana II! Well, Jeff, you aren't the only one who agrees that it is mouthwatering - TraderBob stopped in and tried it at your recommendation (and for the free Red Stripe with dinner - grin)! TraderBob, having been a chef in one of his various lives gave it about the highest compliment he could, raving about the whole meal! Shaka, the Happy Banana II's chef is quite an artist in kitchen, blending just the right Jamaican herbs and spices for his fabulous creations! TraderBob said he may have to come back to try the lobster! Oh, and Stlouisjef, the current price, including the free drink with dinner (by mentioning Beingee's Negril.Com) is JA$450 - about US$11 - but it would be a bargain at any price!
Daily Music News: The Negril Entertainment Network will be returning on Sunday evening at sunset for a live Sunset of the Week webcast! Starting around 5-5:30pm'ish JA time - join us live on the NEN and in the Negril Chat Room! Check the Negril Message Board around that time for the latest information about joining the live webcast and chat in the Negril Chat Room and being a part of the NEN! To make it to the Negril Message Board click on the Main Menu above or below and then look for the Negril Message Board link!
At 10:54pm - a bright, sunny and fine morning... The temperature is 82° F, 28° C.
Click here for Translation








Other area to visit in Jamaica:

To meet the banner advertisers requirements, we need to post this link to their privacy policy section. Give it a click if you have any qualms about it mon!
© Copyright 2000. Beingee's. All Rights Reserved.