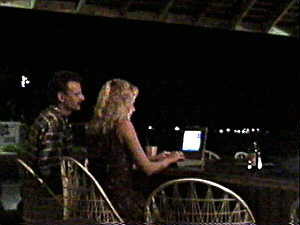 April in May

24th, May 1996

April is in Negril with her husband on vacation and she couldn't keep her hands off the keyboard. She's shown here sipping brews and answering e-mail at the Beach Bar at T-Water. (The string of lights in the background are the lights on the cliffs. Use your imagination.)

Hey mon! It's a holiday weekend. Back Ah Yawd is taking a short break! No problem.

On a fabulous Friday at 7:33 am, a beautiful blue sky! The temperature is 81° F., 26.5° C.