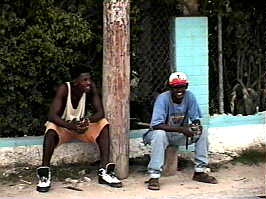 Indian: Look like wi doe get rain today.

Luke: An mi ha ah move fi go pan yuh noh and if di rain fall dat dah get postponed.

Indian: Still wi can't feel dissapointed when di rain fall fah water is life.

Luke: Mi nah sah nothing bout di rain mi like di rain fall sometime but yuh know how ey go sometime when yuh wah mash certain work.

Indian: Yuh noh si how place look soh green and di animal dem fat. Di rain do ah lot ah good thing to nature.

Click for the previous Back Ah Yawd, or click for the next one.