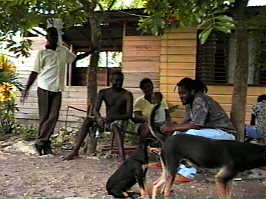 Mikey: Wha happen man look like di I dem ah cool out.

Peachan: Yeah man jus another day living inna di west.

Miss I: Thing slow now soh mi ah nurse baby.

Mikey: Yuh ah di better one ah some money mi ah look inna di day yah.

Peachan: Mi nah move fram yah sah ah right inna di lane mi ah tan and chill out fi tiday.

Miss I: Yuh gwane wah yuh ah go Mikey old time people say rolling stone gather no moss.

Click for the previous Back Ah Yawd, or click for the next one.