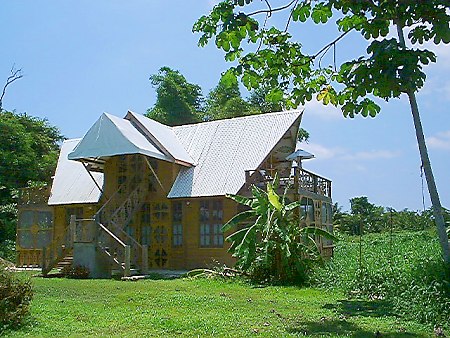 Chippewa's New Lodge!
June 23rd, 2000
The Chippewa Resort has recently been expanded with the completion of the new American Indian inspired designed by owner John Babcook! It has a beautiful location overlooking the Great Morass that helps the Negril ecosystem maintain it's balance. Chippewa has also been written up in the Lonely Planet Guide to Jamaica before the lodge was finished and here is the excerpt - "I heartily recommend the Chippewa Village Hotel where friendly Californian John Babcock accommodates up to 22 people in three octagonal studio units with screened porches and lofty ceilings. He also has a three-bedroom apartment; plus two two-bedroom apartments with dining room, living room, and kitchen. All are rustic rough-hewn affairs oozing a warm ambience, epitomized by American Southwest decor, throw rugs, and tasteful fabrics. A small swimming pool under a shade canopy is inset in a wooden deck. There is a small restaurant and bar with American home cooking. The property offers superb views of the Great Morass to the rear." I told you about the Morass! (grin)

Daily Music News: The Negril Entertainment Network will be on break for a while but will be returning later in this month. This break end in just a few days, so keep checking the Negril Message Board for the latest information on how to join the NEN for the next live webcast and chat in the Negril Chatroom! To make it to the Negril Message Board click on the Main Menu above or below and then look for the Negril Message Board link!
At 5:01pm - the sun is out! The temperature is 84° F, 29° C.
Click here for Translation








Other area to visit in Jamaica:

To meet the banner advertisers requirements, we need to post this link to their privacy policy section. Give it a click if you have any qualms about it mon!
© Copyright 2000. Beingee's. All Rights Reserved.