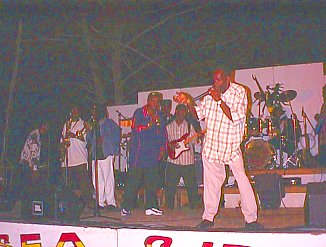 Sunday Night Live
December 22nd, 1997
The beach was packed last night at the Sunday Night Live Show at Roots Bamboo! Errol Polka Dot and the Hurricane Band kept the crowd dancing in the sand. We have a 27K Real Audio clip from last night's show - click here to try and play it. If you have Netscape, you may have to enter this location (http://www.negril.com/hurricn1.rm) in the Real Player to hear the clip. Note: With the high seas we had last week, the beach was covered with seaweed. I would like to take a moment to thank Mr. Jimmy Jackson of Negril Tree House for his wisdom and generosity in helping to clean our beautiful beach! Thanks mon! Back Ah Yawd returns today, Delroy meets Delroy at last night's reggae at Roots Bamboo. Click here to check it out!
At 9:13 am, a glorious morning! The temperature is 80° F, 27° C.
Click here for Translation






© Copyright 1997. Beingee's. All Rights Reserved.