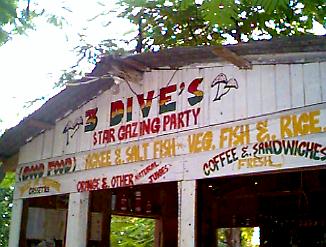 3 Dives Sign
August 21st, 1998
Yesterday we featured a magnificant cliff area picture from a spot known as Lydie's 3 Dive's located near Xtabi and Pickled Parrot. Just so you would know what to look for as you stroll along the West End Road, today we want to show you the 3 Dive's sign! In addition to the nightly star gazing party - you can enjoy some great food and cold drinks! And be sure to take home some of Lydie's famous jerk chicken sauce - take the great taste of Jamaica back home with you! Yah mon! News: the Friday night broadcast looks like a good one - we will first be at the Yacht Club and then move onto the Thatch Hut Bar the NEN Friday night dancehall! News #2: Back Ah Yawd will be returning soon - after the email gets caught up! Irie!
At 11:30am - the sun climbs to it's zenith... The temperature is 90° F, 32° C.
Click here for Translation








This page is sponsored by Charela Inn on the beautiful beach of Negril. If you like this website, be sure your next visit includes a stop at the fabulous Charela Inn and Le Vendome Restaurant! Let them know you saw them here! If you want to be a sponsor, bemail us. Thanks!
Other area to visit in Jamaica:

© Copyright 1998. Beingee's. All Rights Reserved.