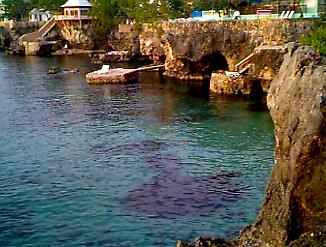 Take the Plunge!
August 20th, 1998
On Negril's wild West End, there are many incredible spots to explore. There are many caves dotting the cliffs - some even underwater! Today's picture was taken at Lydie's 3-Dives - located between Xtabi and Pickled Parrot. Although I didn't take the plunge on this day (the camera doesn't like water) - this is just on of the many spots that you can dive (or jump) into our enticing Caribbean Sea. And wile you are at 3-Dives, be sure to sample some of Lydie's famous jerk chicken - you won't be disappointed! Note: although our Thristy Thursday broadcast came off without a hitch, we were unable to establish an internet connection at DeBuss on Thursday - sorry mon! But look for us live on Friday night - first at the Yacht Club and then late Friday night at the Thatch Hut Bar for some wikked dancehall! See you then! Note #2: since our phone problems still are not perfect, but getting better, Back Ah Yawd will be returning soon. Promise!
At 7:00pm - the night begins... The temperature is 85° F, 30° C.
Click here for Translation








This page is sponsored by Charela Inn on the beautiful beach of Negril. If you like this website, be sure your next visit includes a stop at the fabulous Charela Inn and Le Vendome Restaurant! Let them know you saw them here! If you want to be a sponsor, bemail us. Thanks!
Other area to visit in Jamaica:

© Copyright 1998. Beingee's. All Rights Reserved.