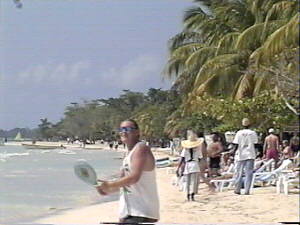 Beach Play
21st, April 1996
Playing on the beach can mean different things to different people. Everything from a casual walk on our majestic white sands to a quick game of beach paddle ball (as shown here at Country Cottages).
We'd like to take a moment to thank all of you who have sent pictures and stories. We've had such a response, that we are going to re-vamp our main menu again to accommodate them. We are targeting May 1st for the update, so please send any (ANY) ideas, stories, pictures, artwork, etc. by the 1st! At 8:45 am, a vivid blue cloudless morning. Temperature is 83° F., 26.5° C.

© Copyright 1996. Beingee's. All Rights Reserved.