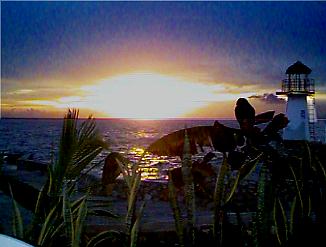 Sunday Sunset of the Week
September 20th, 1998
This week's Sunday Sunset of the Week was taken at the cliffside property known as Mariner's Inn. Mariner's also has a new beach property for their guests known as the Mariner's Beach Village. And for some musical news from Mariner's Inn, look for us on Tuesday night for the Mariner's Inn Sunset Show LIVE on the NEN (Negril Entertainment Network) starting around 6:30 to 7:00pm JA time. In the immortal words of John Ono Lennon - a splendid time is guarenteed for all! So be sure to join the NEN Tuesday night - LIVE! As always, the details on how to join us will be posted on the Negril Message Board! If you need to download the latest version of the Real Media Player - be sure to click on www.real.com and download the free version of their new G2 Player or their previous release - version 5.0. Both are available for free - but you can purchase the "Plus" version if you really want to - but it is not necessary to listen and watch the NEN Live events! And by the way - look for more IRIE FM brought to you by the Negril Cyber Cafe at Eddie's Tigress II! All brought to you using the great software from the great people at www.real.com!
At 1:58pm - a warm sunny afternoon. The temperature is 88° F, 30° C.
Click here for Translation








This page is sponsored by Charela Inn on the beautiful beach of Negril. If you like this website, be sure your next visit includes a stop at the fabulous Charela Inn and Le Vendome Restaurant! Let them know you saw them here! If you want to be a sponsor, bemail us. Thanks!
Other area to visit in Jamaica:

© Copyright 1998. Beingee's. All Rights Reserved.