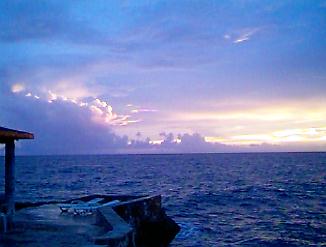 Cloud Thoughts
September 19th, 1998
Losing yourself in thought is something that most people just don't have time for anymore. With all the running around and appointments that we get ourselves into there just never seems to be enough time. Even the phrases we use demonstrate that. Years ago, people "passed" time. Now, most people consider losing yourself in thought as a "wasting" time. Do yourself a favor and pass some time - forget about your worries, troubles and just lose yourself and let your mind travel to places it hasn't in a while. Music News: the NEN will be live Saturday Night from the Negril Yacht Club bringing you another Real Video Broadcast. You can be sure to join us on a regular basis from the Yacht Club every Friday, Saturday and Sunday nights - and be sure to let the fine folks at the Negril Yacht Club that you appreciate their supporting the Negril Entertainment Network. Details on how to join us will be posted on the Negril Message Board!
At 1:58pm - a warm sunny afternoon. The temperature is 88° F, 30° C.
Click here for Translation








This page is sponsored by Charela Inn on the beautiful beach of Negril. If you like this website, be sure your next visit includes a stop at the fabulous Charela Inn and Le Vendome Restaurant! Let them know you saw them here! If you want to be a sponsor, bemail us. Thanks!
Other area to visit in Jamaica:

© Copyright 1998. Beingee's. All Rights Reserved.