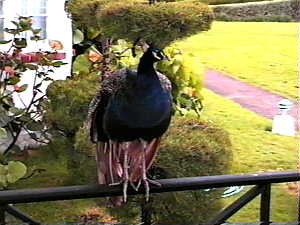 Big Bird of Paradise

18th, July 1996

He may not be yellow, but Big Bird (as he is known at the Trident Villas and Hotel) makes his home in Port Antonio. Beingee's is in Port Antonio today, and we are seeing a bunch! We had a magnificant dinner last night with two wonderful women at The Mocking Bird Hill Resort. They really have a beautiful place mon! More is in store today, check tomorrow for an update.

At 6:44 am, misty over the mountains of Port Antonio. The temperature is 74° F., 24° C.