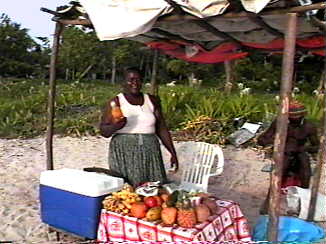 Cynthia's Fruit Stand

17th, September 1996

Cynthia, located next (north) to T-Water Beach Hotel, has been selling some of finest fresh fruits and juices available on the beach. So next time in Negril, after an invigorating beach stroll, stop by Cynthia's and sample from her daily selection. Speaking of daily selections, we have more Dance Again Festival info, click here or at the top to check it out. Tomorrow we are unveiling a new section, it has something to do with dream properties...

At 6:54 am, a thin cloud layer high up in the atmosphere. The temperature is 77° F., 25° C.