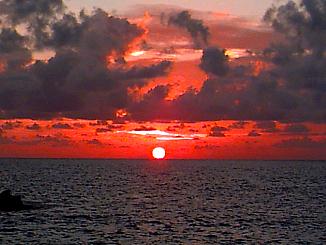 Take Time for a Sunset
January 17th, 1999
There were many incredible sunsets to choose from this week in Negril - but the one on Wednesday has been chosen for this week's Sunday Sunset of the Week. This picture was taken just off the cliff road as the sun set on another day in Negril. And that always means a wild night is just hours away! Daily Music News: Because of the wild nights on the Negril Entertainment Network, the NEN decided to head to Little London for real slice of Jamaican life (the ordination of Bishop Randall S. Foote) at the Mt. Zion Aposolistic Church of God. If you missed that one, you really missed something mon - try to catch one of our upcoming special broadcasts from the Jamaican countryside. Afterwards, the Negril Yacht Club was the place to be with Ivo Wiser and the Airwave Musicians performing with Shelly B. It was a great performance ny the entire band and Shelly was incredible! Look for the NEN to live from Risky Business on Monday and a special afternoon wedding broadcast on Tuesday! Yah mon - our first live broadcast wedding! Once again the details on how to be video, audio and chat will be posted on the Negril Message Board.
At 1:30am - what a night mon! The temperature is 75° F, 23° C.
Click here for Translation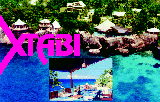 This page is sponsored by Xtabi Resort on the cliffs in Negril. If you like this website, be sure your next visit includes a stop at the famous Xtabi Resort and Restaurant! Let them know you saw them here! If you want to be a sponsor, bemail us. Thanks!
Other area to visit in Jamaica:

© Copyright 1999. Beingee's. All Rights Reserved.