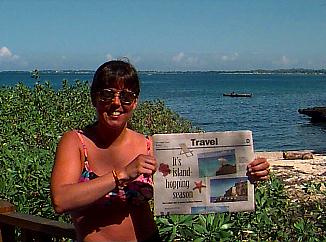 Hello, Columbus!
January 16th, 1999
In Columbus, Ohio, USA - The Columbus Dispatch - the local newspaper - runs a "Hello, Columbus" section where they ask their readers to send them photos of themselves holding the Sunday Travel section of the paper. Laura H. from Columbus was visiting Negril and wanted her picture taken for the Dispatch in hopes that they would print her picture in a future Travel section. Well, in case the Dispatch can't use her picture - we thought that we would put her on a Negril Today! Here it is Laura - taken at Heart Beat (who we featured on yesterday's Negril Today)! The Dispatch also wanted a helpful tip for travelers - and she couldn't think of anything better than suggesting that people coming to Jamaica to check out Beingee's Internet Negril at www.negril.com (also run by a Columbus native - your Cyber Host Rob!) Thanks Laura! Daily Music News: The NEN's Saturday night broadcast from the Negril Yacht Club was possibly our best one yet - we had a full house in the Negril Chat Room and the live video and audio were some of the best ever! Thanks again to everyone who joined in the fun! The Negril Entertainment Network has a busy day ready for Sunday - look for the NEN to be up in Little London for real slice of Jamaican life and then on into the night with another evening of reggae with Ivo Wiser, Shelly B, Love George and the Airwave Musicians. As usual the details on how to be video, audio and chat will be posted on the Negril Message Board.
At 2:42pm - another beautiful day. The temperature is 84° F, 28° C.
Click here for Translation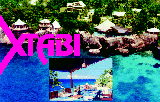 This page is sponsored by Xtabi Resort on the cliffs in Negril. If you like this website, be sure your next visit includes a stop at the famous Xtabi Resort and Restaurant! Let them know you saw them here! If you want to be a sponsor, bemail us. Thanks!
Other area to visit in Jamaica:

© Copyright 1999. Beingee's. All Rights Reserved.