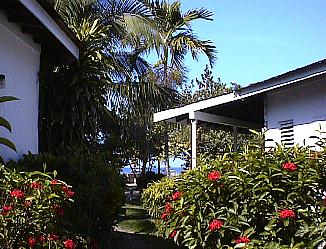 Rondel Village Special!
December 16th, 1998
With high season beginning soon, there are many things to be aware of in Negril. Beingee's will be bringing you new information as we learn about it, from Shows & Events to specials taking place at out sponsors' establishments. One of the new specials we have learned about is the Honeymoon and Wedding Specials at Rondel Village on the beach (gardens at Rondel shown here). If that important day is appraoching, be sure to click on the Specials link above or below. You'll be glad you did! Daily music news: Wednesday night was the Negril Entertainment Network break time, but the NEN will be back with Cyber Jock Funny Face and Cyber Host Rob on the Thursday Internet Pub Crawl live from the Jamaican Price Restaurant and then crawling to the Negril Yacht Club later that night! Join the NEN Crew by checking the Negril Message Board for the latest details on how to be part of the party. You can watch, listen and chat with Negril Entertainment Network crew live from Negril mon! Irie!
At 2:59pm - a breezy afternoon in Negril. The temperature is 79° F, 26° C.
Click here for Translation







This page is sponsored by Catcha Falling Star on the majestic cliffs of beautiful Negril Jamaica. If you like this website, be sure to book your next visit with Catcha Falling Star - just click on the link to take a tour of the property! And be sure to let them know you saw them on Beingee's! If you want to be a sponsor, bemail us. Thanks!
Other area to visit in Jamaica:

© Copyright 1998. Beingee's. All Rights Reserved.