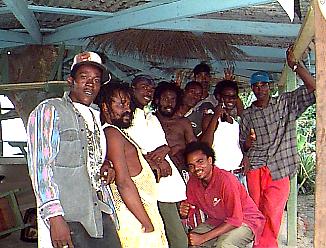 Seven Mile Crew
December 15th, 1998
Meet Shorty, Prento, Rat, Funny Face and the rest of crew at the seven mile post outside of Montego Bay on the road to Negril! This picture was taken for the Jamaican born restaurant owner, Robbie, in Columbus, Ohio, USA. He grew up in this area and although his brother wasn't around, we hope that this picture may bring back some fond memories! Thanks again Robbie! Daily music news: the Negril Entertainment Network is back on their regular schedule with Cyber Jock Funny Face and Cyber Host Rob live from the Negril Yacht Club on Tuesday night! Thanks to Preachermon, Music Mon and Funny Face for their handling of the NEN during my visit to Columbus. Thanks also to the new Negril radio station at DeBuss - WEST104 which was broadcast from the Negril Cyber Cafe at Eddie's Tigress II. Beingee's is finalizing the NEN schedule section, but until we do, keep checking the Negril Message Board for the latest details on how to join in the party (watch, listen and chat) with Negril Entertainment Network crew live from Negril, Jamaica!
At 11:32am - windy morning in Negril. The temperature is 80° F, 27° C.
Click here for Translation







This page is sponsored by Catcha Falling Star on the majestic cliffs of beautiful Negril Jamaica. If you like this website, be sure to book your next visit with Catcha Falling Star - just click on the link to take a tour of the property! And be sure to let them know you saw them on Beingee's! If you want to be a sponsor, bemail us. Thanks!
Other area to visit in Jamaica:

© Copyright 1998. Beingee's. All Rights Reserved.