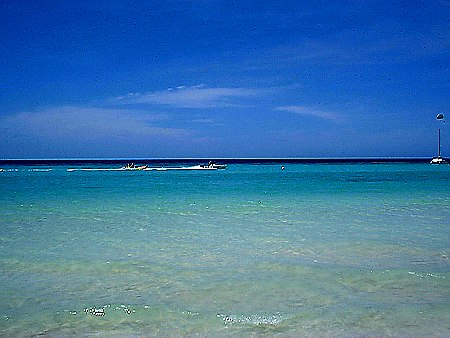 My Sunshine Island
by Astro Saulter
October 16th, 2000
THE ISLAND THAT I LIVE ON IS SO BEAUTIFUL TO ME
IT HAS MANY THINGS FOR ME TO SEE
I LOVE TO SIT AND ADMIRE ITS BEAUTY AND TRANQUILLITY
I DON'T UNDERSTAND WHY THE PEOPLE WON'T JUST PLEA AND LET IT BE
I LOVE ITS AGE AND ITS UNIQUE RAGE
I LOVE ITS LOCATION AS A NATION AND ITS STRONG RELATION
I LOVE ITS HISTORY AND MYSTERY
I LOVE ITS SUNSHINE AND THE LEMONADE ALWAYS TASTE SO FINE
WHENEVER I EAT THE INCREDIBLE FOOD IT ALWAYS PUTS ME IN A GOOD MOOD
I LOVE THE TROPICAL TREES AND I LOVE TO GO OUTSIDE AND FEEL THE BREEZE
I WOULD LOVE TO DRINK GINGER ALE AND GO AROUND THIS ISLAND ON A SAIL.
MY CONCLUSION OF THIS ISLAND IS THAT FANTASY AND REALITY DON'T ALWAYS HAVE TO BE SO EXTREME HERE
THEY CAN HUDDLE UP TOGETHER IN THE SAME BEAM AND THAT CAN BE TRULY A WONDERFUL DREAM.
THE SEA IS BLUE AND CRYSTAL AND WARM UNLIKE A LASHING STORM
THE LAND IS SUNNY AND HOT BECAUSE IT'S IN A TERRIFIC SPOT
THE ISLAND HAS MANY DIFFERENT KINDS OF FRUITS
SOMETIMES WHEN I EAT THEM IT FEELS LIKE I AM PLAYING FLUTES
THERE ARE MANY UNIQUE AND BEAUTIFUL CAVES BUT AT TIMES THEY GET HIT BY THE CRASHING WAVES
I LIKE TO GO TO THE BEACH AND RUN MY TOES THROUGH THE FINE WHITE SAND AND I WISH I HAD A PINEAPPLE JUICE STAND
I LOVE THE BEAUTIFUL CORAL REEFS AND THE COASTLINE, OH I AM SO GLAD THIS ISLAND IS MINE
I LOVE THE COOL WATERFALLS AND UNLIKE BUSY MALLS
THEY ARE LIKE COOL FALLING WALLS
I LOVE DRINKING THE TROPICAL FRUIT JUICES, OH IT'S ALL OF WHAT THIS WONDERFUL ISLAND PRODUCES,
I LOVE ALL THE BEAUTIFUL PLANTS AND FLOWERS
I COULD JUST SIT AND WATCH THEM FOR HOURS
I LOVE THE COCONUT WATER PACKED WITH ICE, OH IT'S GREAT ALONG WITH SOME HOT RICE
I LOVE THE WARM SUN AND THE COLD REFRESHING RAIN
I LOVE TO SIT WITH A FRIEND ON THE BEACH AND WATCH FOR A PLANE.
THESE ARE SOME OF THE THINGS THAT I LOVE ABOUT THIS BEAUTIFUL ISLAND,
IT IS MY ISLAND AND I DON'T EVER WANT TO LEAVE IT.
Daily Music News: The Negril Entertainment Network will be on break until Wednesday's noontime webcast and chat live from Vernon's Fun Holiday Seafood Restaurant and Roots Bamboo on Wednesday night starting around 9:00pm! Check the Negril Message Board for the latest information about joining the live webcast and chat in the Negril Chat Room and being a part of the NEN. As always, the information will be posted on Negril Message Board before the next event! To make it to the Negril Message Board click on the Main Menu above or below and then look for the Negril Message Board link!
At 11:39am - starting to warm up... The temperature is 86° F, 30° C.
Click here for Translation






Beingee's Internet Negril Privacy Policy

Other area to visit in Jamaica:

© Copyright 2000. Beingee's. All Rights Reserved.