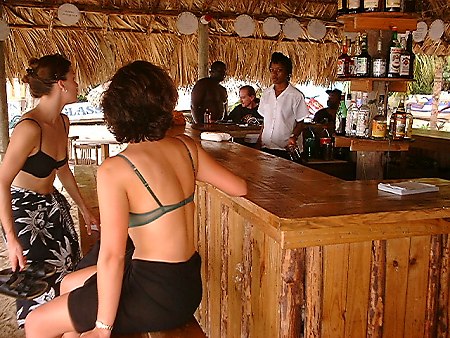 Wednesday Noon at Fun Holiday!
October 17th-18th, 2000
There is a new feature that the Negril Entertainment Network is starting - a weekly daytime webcast from Vernon's Fun Holiday Seafood Restaurant on Negril's famous beach! The NEN is making this webcast available live at amore convenient time for our European viewers and others in vastly different time zones. The Internet never sleeps! This shot was taken on Wednesday just as a short shower started around 1:25pm (the sprinkles lasted about 20 minutes) but that didn't stop the NEN from bringing you Negril - live and living color to you on the Internet! Thanks to all those who joined us and be sure to send Vernon an email thanking him for his weekly shows! Contact Vernon by clicking here!
Daily Music News: The Negril Entertainment Network will be ready for Wednesday's noontime webcast and chat live from Vernon's Fun Holiday Seafood Restaurant! Check the Negril Message Board for the latest information about joining the live webcast and chat in the Negril Chat Room and being a part of the NEN. As always, the information will be posted on Negril Message Board before the next event! To make it to the Negril Message Board click on the Main Menu above or below and then look for the Negril Message Board link!
At 12:42pm - a perfect noon... The temperature is 84° F, 29° C.
Click here for Translation






Beingee's Internet Negril Privacy Policy

Other area to visit in Jamaica:

© Copyright 2000. Beingee's. All Rights Reserved.