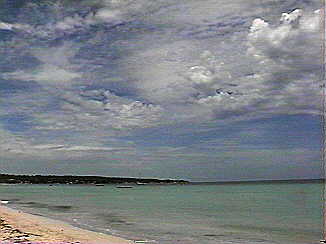 A Murray Moment
August 16th, 1997
Rooster crowing. Sunlight beaming through the shutters. Coco bread morning fresh from the Shamrock, washed down with straight-from-the-bottle orange juice.
Empty beach, calm sea sending ripples to the shore. A lone jogger. Fisherman with their evening catch for sale.
The palm sways while the almond tree undulates in the soft breeze. Sipping coffee flavoured with easy conversation.
A hummingbird pays homage to every flower, a snowy white egret stalks along a wall, high above a vulture rides the thermals in lazy circles.
Time has stopped and the moments are full. They come and go without attachment.
Thanks Murray! In today's Back Ah Yawd, Delroy is checking with Carlos at Legends on the beach. Also, click through the Negril Message Board mon!
At 8:15am , a broken cloud above. The temperature is 81° F, 27° C.