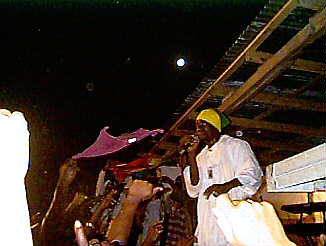 Sizzla!
August 15th, 1997
Sizzla! Jah Rastafari! Yah mon! Rastafari! Jah!
What an evening mon! With the moon high overhead, the bashment at Cheap Bite was one not to miss! Sizzla is shown with the enthusiastic early morning crowd (1:30am!) Capleton was also in the lineup - but we didn't get a picture. The digital camera ran out of memory. Sorry mon...
In today's Back Ah Yawd, Delroy is checking out Gladstone the Coffee Man at Serious Chicken. Click here or above on Back Ah Yawd to check it out mon! Also, take your time and click through the Negril Message Board, read some of the comments and reply where you like! You can find out what people think about Gladstone's Blue Mountain Coffee in the Food Section...
At 7:50 am, another beautiful morning. The temperature is 76° F, 25° C.