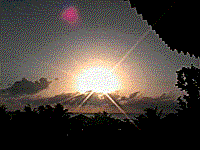 Give Us Your Opinion
16th, July 1996

Beingee's is experimenting. We are testing a method to bring you an actual setting sun. We would like to know if you can see the effect and was worth the wait. Well, was it?
We have a new traveller's opinion in our Traveller to Traveller Section. Click to check it out!
At 7:17 am, after a hot one yesterday, a cloudy morning. The temperature is 78° F., 26° C.