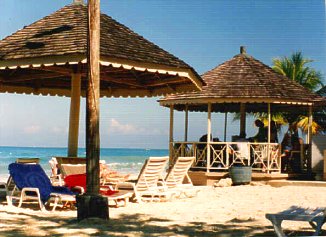 Negril Palm Beach
May 16th, 1998
After all the computer problems that we experinced in March and April, Beingee's is finally getting back on track! Today we are pleased to announce the addition of our latest Sponsor hotel - the Negril Palm Beach Hotel! Be sure to check out our Where To Stay section and give it a click. Let them know what you think! Thanks mon and thanks to the Palm Beach Hotel for their understanding in the delay. News: We will be broadcasting tonight (Saturday) on the NEN (Negril Entertainment Network) starting around 6:00pm JA time for sunset from the Negril Yacht Club. Details on how to join us will be posted on the Negril Message Board! More Back Ah Yawd today - Prento runs into Roy - give it a click above or below on Back Ah Yawd!
At 5:28pm - sunset and fruit punch at the Yacht Club. The temperature is 85° F, 29° C.
Click here for Translation






© Copyright 1998. Beingee's. All Rights Reserved.