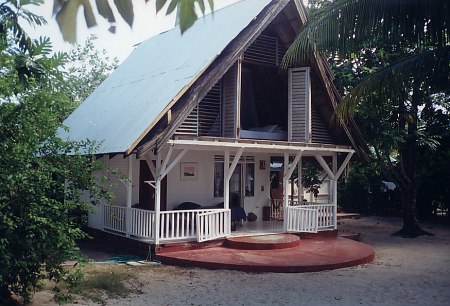 Bongo's Beach House
February 16th, 2000
Welcome to Bongo's Beach House, located directly on the beach in Negril. We have one bedroom with a queen bed and bathroom upstairs overlooking coconut trees, beach and the beautiful Caribbean Sea. Downstairs is a foyer and large verandah facing the beach, a rear verandah with dining area, separate fully equipped kitchen, and large outdoor shower area (solar hot water). There is a large, private yard in both the front and the back, with a locked gate on the beach side. The only other building on the property is a small cottage in the rear which is occupied by the resident manager. The house is perfect for a couple or the bedroom is large enough to put in an extra twin bed to accommodate roommates. The house has a very natural, Jamaican feel and is centrally located on the beach. The original thatch roof is still in tact and visible from inside the bedroom, although it has been covered for weather protection. The furnishings are simple and quite comfortable for a beautifully relaxing vacation.
Rent is $1,000/week which includes housekeeping service. Your privacy is guaranteed and we'll try to help you find whatever it is you need. For more information, off-season/long term rates and 'specials', contact bongosbeachhouse@hotmail.com. Hope to see you soon. One Love!
Daily Music News: The Negril Entertainment Network will be taking a break to once again to upgrade their system to bring you the best webcast possible over the internet! As soon as more information is available it will be posted so please be sure to check the Negril Message Board for the most current information on joining the webcasts and chat sessions! To make your way to the Negril Message Board click on the Main Menu above or below and then look for the Negril Message Board link!
At 10:13pm - a pleasant evening. The temperature is 77° F, 25° C.
Click here for Translation








Other area to visit in Jamaica:

© Copyright 2000. Beingee's. All Rights Reserved.