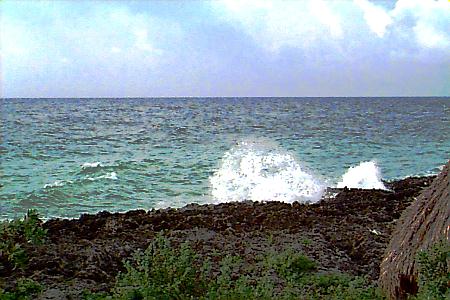 Floyd's Fury?
September 14th, 1999
Hurricanes have captured the imagination of people through out the centuries with their astonishing power. Even though Hurricane Floyd is hundreds of miles away, the small remnants from it can still be seen. This picture, taken on Tuesday shows some of the small waves crashing against the cliffs of the west end. Not enough to cause any damage, they show how far hurricane forces can travel. Our thoughts and prayers go out to those in the path of this devastating natural disaster. Daily Music News: Because of the weather, the Negril Entertainment Network will be taking a few days off the net until things settle down (your Cyber Host Rob still isn't feeling up to snuff). Hopefully things will be better by later this week, so keep watching the Negril Message Board for updates!
At 9:16am - nature's display. The temperature is 80° F, 26° C.
Click here for Translation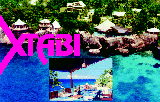 This page is sponsored by Xtabi Resort on the cliffs in Negril. If you like this website, be sure your next visit includes a stop at the famous Xtabi Resort and Restaurant! Let them know you saw them here! If you want to be a sponsor, bemail us. Thanks!
Other area to visit in Jamaica:

© Copyright 1999. Beingee's. All Rights Reserved.